This was the original Chaos Galaxy TCG Wiki. However, due to the essence of time, a new wiki has been made for The Chaos Galaxy TCG. Please go to the official one linked here.
Yours Truly, Guildore - Chaotic Nerd
Hey if you like TCG's, this game is for you! With over 300 cards, this the best selling card game in the game crafter!
Make sure to check on the game crafter and his YouTube channel chaos galaxy!!!!!
Please note that this Wikia is currently in development and some articles/pages may not be accurate. If you see something which you believe to be incorrect according to the Chaos Galaxy, please contact one of the ChaosGalaxy Wikia administrators! Thanks!
Additional Community Resources: Edit
Table of Contents: Edit
About the best TCG around: Edit
Chaos Galaxy is a Trading Card Game (TCG) created and developed by Zack Michael, a British art student. The aim of the game is for a player to gain 20 points in order to win by using Creatures, Resources, Attachments, and the newly added Activator cards to their advantage before their opponent; requiring players to build unique decks in order to battle. Each player also must choose a Planet card which their creatures will take-arms upon. Each Planet holds its own creatures and benefits and grants special abilities if the player chooses to use it. There are 7 Planets so far in the canon game: Sheos, Baro, Sindell, Sindian, Gaios, Rokah, and Palicium . love this game or die
The Chaos Galaxy Wikia was created by Darcy Churchill, also known as JunkYardTitans TCG, as a project for the community as a whole. This Wikia has been created with Zack Michael's permission and all of the images & resources displayed on the wikia are property of Zack Michael. Content is allowed fully for private, non-commercial use only. For any inquiries, please contact Zack Michael - chaosgalaxytcg@gmail.com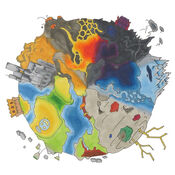 <mainpage-endcolumn /
Community content is available under
CC-BY-SA
unless otherwise noted.